2 for 1 on the UK's leading paintball activities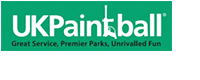 UKPaintball
UKPaintball are the UK's leading paintball provider, offering the best possible experience, and a day you will never forget. There paintball parks all have a variety of exciting and challenging game zones which will be sure to test your abilities.
You will be provided with all the tools to conquer the paintball field, including goggles, semi-automatic paintball marker, camo outfit, gas refills and 100 free paintballs!
You need to be a member to see this offer!
Back
The voucher code gives the holder 50% discount off UKPaintball's full day admission for all members of the holders group. Voucher code must be used when making a booking, and cannot be used after a booking has been made. Minimum age 15 years old. Usual UKPaintball terms and conditions apply. Booking cannot be used in conjunction with any other offer. Vouchers cannot be redeemed for cash and have no cash value.